COVIDSafe and wellbeing
COVIDSafe and wellbeing
Our COVIDSafe and wellbeing plan details our commitment to protecting your health, safety and wellbeing during the COVID-19 pandemic.
Your safety and wellbeing
Safety has always been our number one priority, now more than ever, with new layers of safety measures integrated to our everyday operations.
Please take a moment to review this information to understand our current health and safety protocols.
COVIDSafe principles
We all have a collective responsibility to keep each other safe. These basic principles must be adhered to throughout your time with us.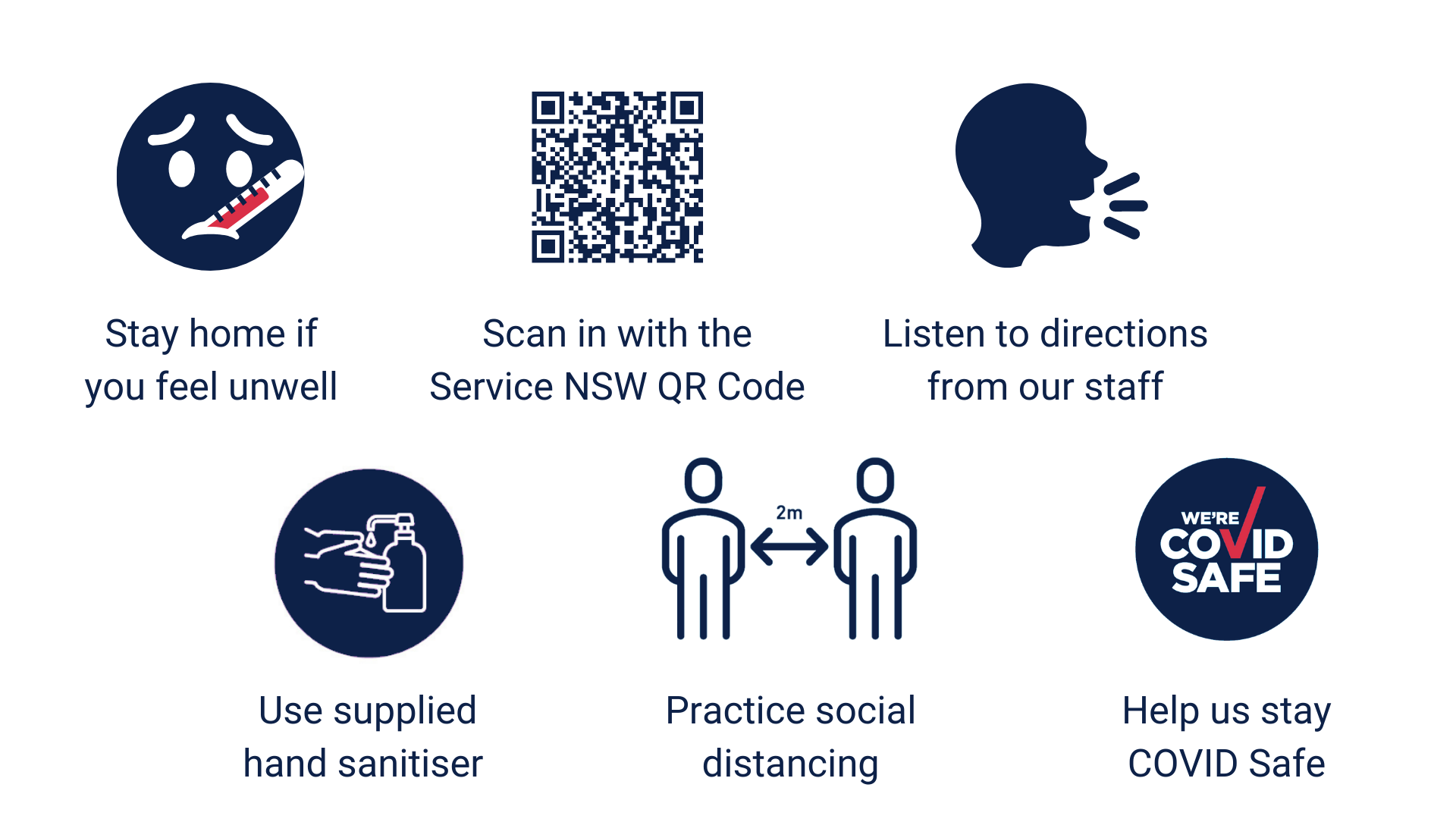 In order to protect everyone's health and wellbeing, please note the following before visiting:
Patrons must be free of symptoms of COVID-19 within 14 days prior to the event.
Patrons must not have come into contact with anyone displaying the symptoms of COVID-19 in the 14 days prior to the event.
Patrons will be asked basic COVID-19 health screening questions on arrival at the venue
Patrons must observe physical distancing and other health and safety protocols put in place by the venue
The venue will offer a full refund or exchange to any ticket purchaser who has developed COVID-19 symptoms, has come into contact with anyone with COVID-19 symptoms or a confirmed case of COVID-19.
Reduced box office hours and audience capacity
The Box Office is closed in accordance with the current NSW Health Order. You can contact us by phone on 02 6043 5610, between the hours of 9.00am to 5.00pm Monday to Friday.
Changes to our 'Babes in Arms' policy
From Friday 13 November 2020, due to a Public Health Order, anyone under 18 months must now possess a ticket as they will be counted towards our allowed capacity. In the past a child under 18 months would be admitted "Free On The Knee" and didn't need a ticket, due to COVID-19 restrictions this is no longer the case.
When you book tickets now, there will be a new ticket for 'Under 18 months'. If you are planning on bringing your child you must let us know, rather than risk being turned away if we are at capacity. The cost of the child attending will vary for each event, so please check the price list when booking your tickets.
We apologise for any inconvenience, and appreciate your patience as we work through these ever changing restrictions.
Ticketing
Due to COVID-19, additional Terms and Conditions of Sale now apply to all bookings. Please read the following terms and conditions, in addition to the standard Terms and Conditions, prior to purchasing your tickets.
Purchasing Tickets
To purchase tickets, you must provide the following contact details: Full name, mobile number, email and residential address
Contact details, along with seating allocation, will be held by Albury Entertainment Centre (AEC).
Patrons agree that all contact information will be available to public health officers if requested.
AEC will not share contact information with any third party other than the relevant health authority (if requested), and will not use the information for promotional purposes unless the patron opts into this service.
AEC reserves the right to reallocate seating position based on the size of the group, time of booking, and venue configuration to maintain social distancing.
Contactless payment methods are preferred at the time of booking.
Tickets will be issued in a digital PDF format and will be sent by email to the ticket purchaser, not individuals. This is the preferred ticketing method.
Paper tickets will only be issued if digital tickets are not accessible.
We encourage patrons to either print their PDF tickets or ensure their tickets are available on their mobile devices ready for scanning at the doors.
At the Event
Patrons must have digital tickets available on their phone or printed with barcodes clearly visible upon arrival. AEC Ushers will not handle ticket stubs.
Patrons must not attend if they are sick, have been to a hotspot, or have returned from overseas in the 14 days leading up to the event.
If you are attending the event as part of a group, as the primary ticket purchaser, you are responsible for knowing the contact details of all attendees in your group. In the event you are contacted directly by the Government, including the Department of Health for the purposes of contact tracing, you must: (a) make the contact details of your group available to the Government (if you have the consent of each group member to do so), or (b) contact each member of your group, and request that they provide their contact details to the Government directly.
All attendees in your group, including yourself, must commit to stopping the spread of COVID-19. If at the time of the event, either you or any other members of your group are feeling unwell or are subject to a self-quarantine or self-isolation period, you agree not to attend the event.
Patrons may be asked health-screening questions on arrival.
Patrons will not be able to attend if they have developed COVID-19 symptoms or have been in contact with a suspected or confirmed case. Any patrons displaying COVID-19 symptoms while at the venue will be asked to leave.
To be entitled to a ticket exchange or refund, patrons must advise the venue, in writing or phone, of their circumstances and intention not to attend prior to 10am on the day of the performance.
Patrons agree to abide by all current social distancing, safety protocols and COVIDSafe signage located throughout the venue.
Patrons agree to follow the instructions of staff at all times.
If patrons do not comply with protocols, or authorised requests, they will be asked to leave immediately without refund or further recourse.
Patrons acknowledge that while the Venue has taken all reasonable health and safety precautions to keep the audience, staff and performers safe, patrons enter the Venue at their own risk without recourse to claim against the Venue regarding health outcomes.
We recommend that you download the COVID-Safe App and have this running while attending the theatre.