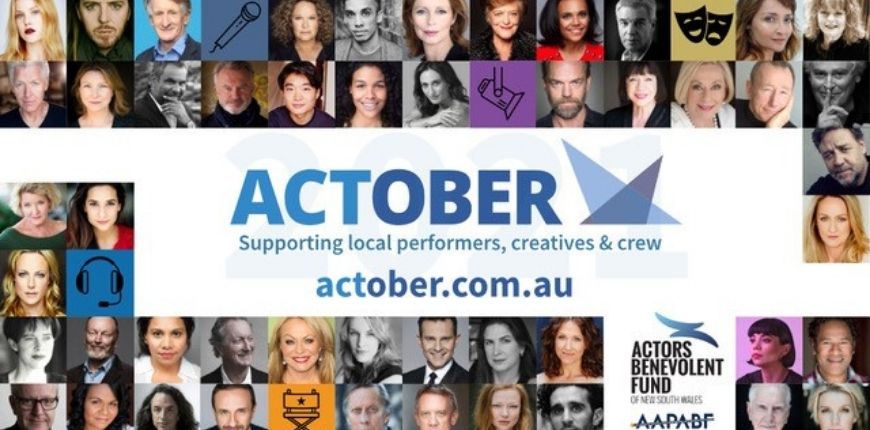 ACTober is a month-long campaign uniting the six Actors' and Entertainers' Benevolent Funds from across Australia and New Zealand. During the month of October they will ask theatre lovers around the country to donate to help sustain members of the performing arts community. #ACTober.
These vital funds have never been more important in helping the performing arts to survive. It's an opportunity to celebrate a vibrant and crucial industry, and to shine a spotlight on the people who make it special. ACTober celebrates the storytellers and the makers. The entertainers and the crews. It is time to reflect on the importance of the performing arts, and the role they play in all our lives.
In 2020, the entertainment industry couldn't be more vital. Through lockdown and home isolation, the arts has kept us enthralled, distracted and carried us through: from streaming video to audiobooks; concerts to performances on Zoom. ACTober is a chance to celebrate the efforts of those who entertain us.
Across Australia and New Zealand, and indeed the world, the impacts of the COVID-19 pandemic have been devastating, especially so for the performing arts industry. Thousands of events, productions, festivals, performances and concerts have been cancelled or postponed, leaving countless out-of-work and out-of-pocket. ACTober is the time to acknowledge the struggles of an industry, and the people within it, inordinately affected by the ongoing crisis.
---
All donations $2 and over are fully tax deductible
---
---
We acknowledge the Traditional Custodians of the land and waters throughout Western Australia. We celebrate the rich and continuing contributions made by First Nations People to the cultural life of our state, and we pay respect to all Elders, past, present and emerging.